While playing the game you will move between many different areas.

These areas can be accessed by clicking the city map icon at the top right of the page.
Once in this page you can go to a town or suburb by selectint the area you want then clicking on the train icon at the bottom of the map.
once into book 2 you can also go to Arkadia and do things there.
In order of finding them they are
the
REFUGE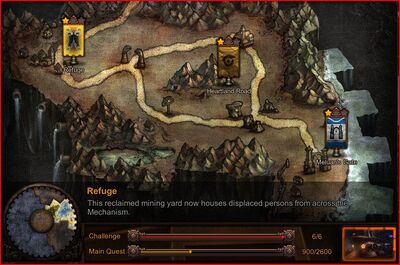 This reclaimed mining yard now houses displaced persons from across the mechanism.
This scenic thoroughfare is frequented by steambike enthusiasts and marauding corsairs alike.
This prosperous harbour town is named for the celebrated alchemist and philanthropist Meluan Chord.
Part 1
The VAULT
This ancient and mysterious chamber contains the potential to unlock the secrets of the Paragons reign.
Part 2
The FOUNDERS' ANNEX
This imposing paragon structure now serves as the seat of the Clockwork Oracle, Paradigm of the Nexus.
This once-opulent suburb, long since fallen into urban decay, has become the front line in a war with the Trow.