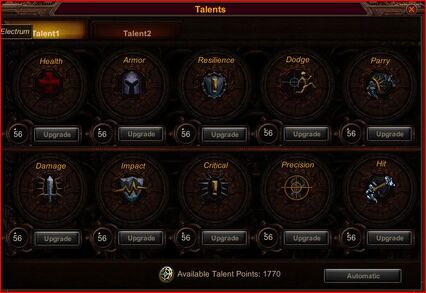 ALL classes have the same talent page which using talent points increase your abilities.
Talent points can be obtained from
Fishing
Challenges
Transmuter
cargo delivery
Boss gauntlet
upgrading them is important to your overall power.
the level of upgrade is caped at your current level making 60 the current max for the game.
Talent 2
Edit
at level 40 the Talent 2 tab opens giving you even more upgrades.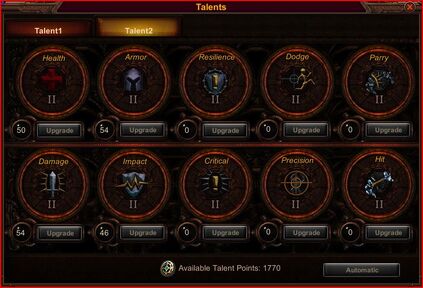 only Health is open at level 40 followed by:
Damage ... (level 45)
Armor ...... (level 50)
Impact ...... (level 55)
then at level 60
Resilience
Dodge
Parry
Critical
Precision
Hit
these cost a LOT more than the previous talents but also give more. see the table below.
Level
Cost to buy
stat boost

(non health)

stat boost

health

Level
cost to buy
Stat boost

(non health)

Stat boost

Health

1
3050
40
31
11390
1540
2
3100
80
32
12310
1610
3
3150
120
33
13300
1680
4
3200
160
34
14370
1750
5
3250
200
35
15500
1820
6
3300
240
36
16720
1890
7
3350
280
37
18010
1960
8
3400
320
38
19390
2030
9
3450
360
39
20850
2100
10
3500
400
40
22400
2170
11
3550
440
41
24040
2240
12
3600
490
42
25780
2320
13
3650
540
43
27620
2400
14
3700
590
44
29550
2480
15
3810
640
45
31590
2560
16
3990
690
46
33740
2640
17
4190
740
47
36000
2720
18
4430
790
48
2800
19
4700
840
49
40860
2880
20
5010
890
50
43470
2960
59200
21
5350
940
51
66980
3040
60800
22
5740
1000
52
71340
3130
23
6160
1060
53
75910
3220
24
6630
1120
54
80690
3310
25
7150
1180
55
85960
3400
26
7720
1240
56
90910
3490
27
8340
1300
57
96360
3580
28
9010
1360
58
29
9740
1420
59
30
10540
1480
60