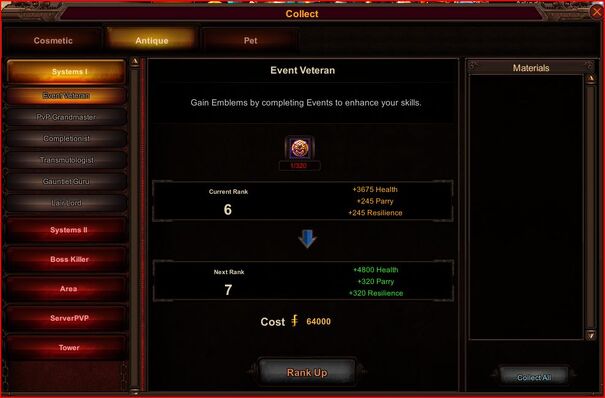 Hitting Z or clicking the collections icon at the bottom of the page will open the collection page. This page is shared with the Cosmetic collections and the pet collections.
This page will concern itself with just the items collection (or antique tab) as seen to the right.
there are many different collections so they will be presented in order from top to bottom.
Systems 1
Edit
There are 6 collections here.
event veteran
PvP grand master
Completionist
Transmutologist
Gauntlet Guru
Lair Lord
Event Veteran:
Edit
completing events such as gold smash or scribes maze will give tokens for this collection
each level gives a bonus to
PvP grand master:
Edit
compete in pvp events or public levels (in pvp mode) gains honor which can be used in the PvP shop in arcania to buy medals for this collection
each level gives a bonus to
Completionist:
Edit
complete ALL daily goals (scroll at of page) to gain an Objective Stamp.
each level gives a bonus to
Transmutologist:
Edit
Spin the transmuter in any suburb and get 5 or more same items (out of 7) to gain transmuter essence tokens.
each level gives a bonus to
Gauntlet Guru:
Edit
Complete boss gauntlet encounters to gain tokens for this collection
each level gives a bonus to
Base damage
Precision
Hit
Lair Lord
Edit
Complete Monster lair encounters to gain tokens for this collection
each level gives a bonus to