Welcome to the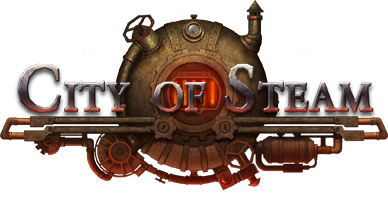 This wiki is currently inactive due to changes in the game. Thanks for your support.
City of Steam is an MMORPG, or massively multiplayer online role-playing game where you can join many of players from around the world.
We are a site dedicated to offering you all your City of Steam information and news needs. To get started why don't you have a look at what information is available from the menus on the left. Enjoy your time here and even contribute to the wealth of information available.
Contents

Featured Video

City of Steam Closed Beta Trailer

Editing Guides

Want to get started editing the City of Steam wiki? Read of some of the guides below and once you have the hang of it why not check out some of the requests on this page or make a request yourself.

Basic Editing

Adding Items

Adding Quests

Game News

Patch v1.2.18 was released on June 5, 2013

Patch v1.2 The Vault Unsealed was released on May 29, 2013